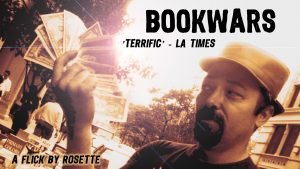 BOOKWARS has screened & aired around the world at venues including: Arte / ZDF, SVT, NHK, PBS, Bravo!, Metrochannels, Access, PBS, MoMA (New York), the Danish National Film Institute, the New York Underground Film Festival [Winner, Best Doc], Cinema Village [New York City], Florida Film Festival, Kansas City Film Jubilee, Freedom Forum, Seattle 9-11 Media Ctr, FACETS, Brotfabrik (Berlin) - and many other venues!
Video on Demand & Streaming
DVD: Home Use and Public Performance
DVDs are still popular with cinephiles, individual collectors, universities and libraries. See info below purchase a DVD of 'BookWars' for home use and with Academic/Public performance license.
'BookWars' DVD with Extras - Home Use
Home Use Only - Not licensed for screenings or other public performance uses.
Includes commentary version by filmmaker Jason Rosette and sidewalk entrepreneur, Pete Whitney
Also includes behind the scenes 'making of' multimedia show
BookWars' DVD with Extras - Includes Public Performance (PPR) license
Includes Non-Commercial Public Performance (PPR) license: the legal standard for universities, schools, organizations and libraries seeking to exhibit 'BookWars' to the general public
Includes commentary version by filmmaker Jason Rosette and sidewalk entrepreneur, Pete Whitney
Also includes behind the scenes 'making of' multimedia show
Educational Film & Media Rental
'BookWars' is available for rental and purchase from the circulating film collection at the Museum of Modern Art
More 'BookWars' Related Items